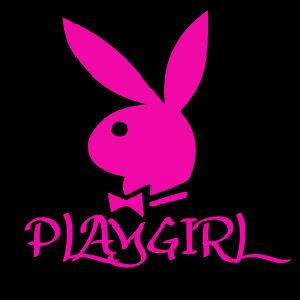 I have to firstly apologise about past posts if I did not make clear my stance on porn magazines. When I said there are no male ones, I knew some existed (did not know their names), but I meant that there are not any mainstream male porn magazines you could find in places such as your local newsagents. However, Paul Walter's comments regarding my Sexualisation of our world blog, lead to me discovering a quite interesting male porn magazine, Playgirl, which started in 1973, and was quite a popular magazine.
Before people start saying, see there are porn magazines for women in the mainstream, Playgirl stopped publishing this January/February. Furthermore, it has a rather interesting context regarding its emergence. Playgirl is a porn magazine that was set up by Feminists, as a counter response to the images and treatment of women in society, such as in Playboy (hence, Playgirl), and the over sexualised female images in porn magazines. Explaining why the Playgirl magazine existed, the then Editor in chief, Michele Zipp said:
"It's 'Entertainment for Women' because there's no other magazine out there that caters to women in the way we do, but we love our gay readers, as well."
Organised Feminist protest in the form of producing our own male porn magazine is something I have argued for in previous blogs, and little did I know that it had actually been done. Furthermore, it is also interesting to note that this was a United States published magazine.
Paul provided me with a Wikipedia link to a list of pornographic magazines for men and women. It is quite telling that there is a categorisation scheme only for the porn magazines marketed for men, as there are so many! The list shows that there are only NINE (To clarify after comments below, this does include homosexual and lesbian porn magazines*) porn magazines for women around the world in total, and only ONE porn magazine in the UK (called Filament), which has only just been launched. However, it is interesting to note that it appears to have a Feminist background too, with a column called 'Ask a Feminist', whilst also stating clearly that it does not discuss traditional women topics such as diets and cosmetics. Maybe, this will be the UK's response to the success of Playgirl. It is a shame that Playgirl had to finish really, and it sadly shows it did not fit the taste of our male dominated culture. To see the difference in numbers between the male and female porn magazines, just simply click on the link above and have a look for yourself, it says it all!
*It is important to note that there are only 2 lesbian porn magazines listed on the link, showing how lesbians themselves have less access to lesbian porn than heterosexual males, again showing strong power divides. Gay men have a wide range of access to homosexual porn too, again highlighting the male dominance in the industry. There has been the suggestion women will just buy this male orientated porn instead, but this does not address the issue that it is not catered towards women's interests. Homosexuality to me, does not subtract from the key issue of exploitation that this industry fosters, mainly towards women. Yes, men are exploited too, but not to the same extent and level women are.
I just thought this was quite interesting to consider. Playgirl was a move I have to support, and it appears with Filament, there may be another attempt to create a Feminist response to the dominance of male orientated porn magazines in the UK.
NB: I do not support or like porn, I just think that a way we can tackle the sexualisation of our world, where women are treat like sex objects, is to beat the industry at it's own game. Thus, by producing male porn magazines and more lesbian orientated magazines, it can highlight the pressures and exposure women have to face daily.